07942 371 891

Relaxation & Hypnosis CDs/MP3s
Music can heal and relax your soul and body
We produce our very own Meditation and Hypnosis CDs/MP3s in collaboration with professional composer and DJ Martin Kokavec, whose music is unique, colourfull, emotional and healing. In a short time you will find all kinds of music for your relaxation and promotion of your well-being.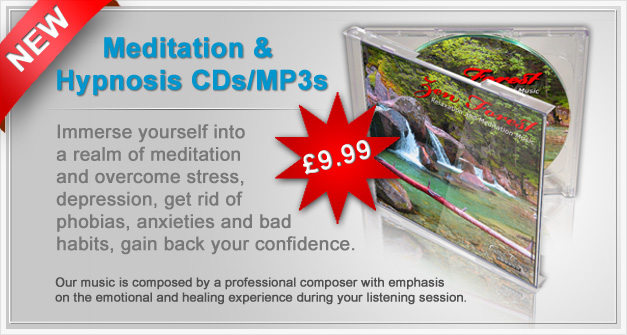 How can our music heal
In our compositions are genuinly incorporated binaural beats and tones which enhance the impact of music on brainwave frequencies allowing to induce the various states of relaxation. The scientific studies prove that different wavelenghts affect the brain during the resting time starting with very deep relaxation using delta waves (recuperative sleep), theta waves (dreaming sleep) or alpha waves (light sleep), through the state of expanded consciousness and heightened self-awareness using gamma waves (deep meditation) up to the energizing and refreshing frequencies of beta waves.
Some of the many issues that can be treated with Self-Hypnosis CDs include:
Stress
Confidence
Depression
Anxieties and Phobias
Weight Loss
Motivation Issues
Sleep Problems
Poor Concentration
Low Energy Levels
Hurt in Love
Living with Narcissists
Accepting Happiness
Body Returning to Good Health
and many more...
Our CD/MP3 range
We offer Meditation and Relaxation music and likewise Guided Self-Hypnosis sessions. Our products are available both as CDs and instant download MP3s. The payment can be realized through PayPal account or using any major Debit or Credit card. After the succesfull payment an e-mail confirmation with download link will be sent to your e-mail address. The CD will be despatched next day after the succesfull payment using 1st class Royal Mail service.
Meditation & Relaxation Music:
Zen Forest

This CD will bring the fresh breeze and relaxing sounds of the forest torrent and birds songs along with the rhythms of trees in the woods.
Self-Hypnosis Recording:
Self-Confidence & Self-Esteem
From time to time it happens to everybody that one looses the solid ground under his feet. The lack of Self-Confidence is in today's fast pace and competitive world very common condition which can be easily overcome by hypnosis. This CD will help you to gain back your Self-Confidence hiding inside your subconscious mind. All you need to do is find a quiet place and little time to listen to this recording and soon you can spot the difference in your everyday life.


Eva is a wonderful. She not only helps to relieve stress but also heals. On a business trip recently, I injured my neck. One session with Eva ended the problem. I always leave a session with Eva feeling much better than when I came in.

Jessicca W., London
We are always happy to hear your voice - your comments, suggestions, compliments or complaints. If you go to our Comments page, you can have your say about anything regarding our business and services. Thanks in advance for your time.
Your shopping basket is empty
Book Your Appointment

Book your appontment by phone or e-mail using our web form.

You can call us on our mobile number 07942 371 891 or use our online form and send us an e-mail. We will confirm your appointment as soon as possible. We would like to ask our valued customers to book their sessions at least 24 hour prior the appointment.
Buy Our Vouchers

An ideal birthday, christmas gift or just a little treat for your loved ones.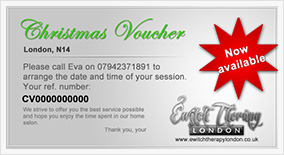 If you'd like to make someone happy, our vouchers are an ideal present pick for any occasion. Massage Therapy or Psychic Reading session - the choice is yours.
Custom Made Unique Tie Dye
T-Shirts

Want to have something unique and fashionable at the same time? Buy one!

We are proud to present our Custom Made Tie Dye T-Shirts which might be a unique and fashionable addition to your wardrobe.